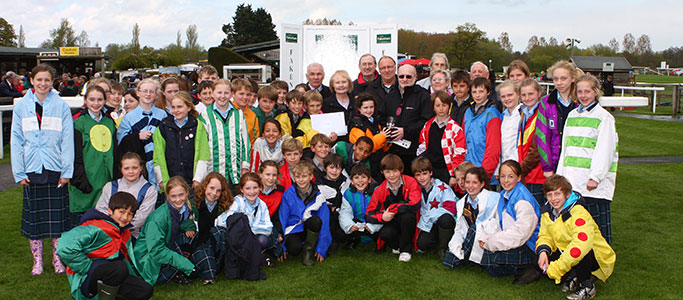 Ownership
Racehorse ownership is no longer reserved for the elite.
It has never been easier to get involved in the action, whether alone or with a group of friends.
When you become an owner, you become a member of a fascinating club. There's the fun of buying your horse, choosing your colours, watching your horse on the gallops in the early morning light (and rain!), and, of course, the thrill and anticipation of being in the paddock before and after a race.
Whether you win or lose, the action is electrifying – it's second to none – and you're right in the thick of it.
Sole Ownership
You will be the owner of the horse and no one else. As such, any costs and profits will be yours alone. You will also have a close involvement with any of the decisions regarding the horse. You will be able to choose the name of your horse and which colours will be worn in your name.
Co-ownership
Co-ownership of a racehorse involves the participation of more than one owner. It is effectively any type of racehorse ownership other than sole ownership. Entering into co-ownership of a racehorse can lead to a number of different variations in how you the owner are involved.
Types of Co-ownership
There are 4 types of co-ownership:
Company Ownership
The horse is owned by the company's shareholders.
The company must appoint a Registered Agent to act on its behalf.
Joint ownership
Can consist of between 2 and 12 individuals.
The horse(s) can run in either a joint ownership's name or the name of a joint owner.
Leasing
Leasing a racehorse involves ownership of a racehorse for a set period of time, perhaps for one race or for its racing career
Costs that the horse incurs become the responsibility of the lessee for the lease period and in return the horse will run under the ownership of the lessee
At the end of the lease the ownership of the horse returns to the lessor/the legal owner
It is important that an agreement is made between the lessor and lessee with regard to the lease period, prize money split, if any, and any exceptional costs that may remain the lessor's during the period
The 'Free Lease Exchange' is another option for owners to consider. The scheme is restricted to members of the TBA & ROA with British consigned/owned horses. It is a joint initiative by the ROA and the TBA to put breeders of available horses in contact with prospective owners, by allowing breeders and vendors to offer their horses on a free lease.
Racing Partnership
Can consist of between 2 and 20 individuals of which at least 2 must become, or already be, registered owners.
There are a number of ways in which partnerships are set up and managed. You must decide upon how much input you would like as a co-owner and then choose the type of co-ownership to suit you.
The 3 types of partnership are as follows:
Trainer managed
This involves a trainer setting up and running a co-ownership. The trainer will usually become a co-owner themselves. This means all the admin of running the co-ownership is carried out by the trainer thus providing 'hassle free' racehorse ownership.
Social group
This involves a group of friends deciding to start up a co-ownership and share the costs accordingly. One co-owner or more will have to set up and run the co-ownership and deal with the administration of the co-ownership.
Professionally run co-ownership
There are a number of professional co-ownership organisers who work on a commercial basis and charge a management fee to set up and run co-ownerships. This means all the admin of running the co-ownership is carried out by the co-ownership organiser thus providing 'hassle free' racehorse ownership.
Racing Clubs
Racing Clubs are not an independent form of co-ownership. Therefore by joining or becoming a member of a Racing Club you receive the benefits of that Club but are not entering into racehorse ownership yourself.
Will involve the 'leasing of an ownership interest', but does not involve ownership of any racehorses. The Club itself may own any number of horses, which will run under the colours of the Racing Club.
Involves registering as a member of a club by paying a joining fee and/or a membership fee for a specific period. Re-registration will normally be necessary after this period.
There may be some ownership benefits including a share of prize money.
Buying Horses:
Alex is present at all the major sales, and we also have a large range of contacts to source us the best possible horses for our owners.
Latest News
It has been a busy week with runners and all have been running well. Last week w...
28-07-2020
Yesterday we took Hiconic up to Bangor for her 2nd run over hurdles. She was a hot favou...
13-07-2020