Latest News
We are already into the second week of the new season, time goes so quickly! Looking ...
10-05-2022
What an amazing week it has been, with two winners at different ends of the scale. On...
09-04-2022
Two New Arrivals & Ogaritmo Runs Well At Uttoxeter
25-May-2015
25-May-2015 12:33
in General
by Admin
It has been a busy last 10 days with two new arrivals and runners at Salisbury and Uttoxeter. Our first new inmate came in the form of Barenice who we purchased from Doncaster Sales. He is a lovely stamp of a horse who was 2nd in a Point to Point a month ago in Dromahane. The winner of that race has just been sold for £200 000 which hopefully proves the quality of the race, he is a four year old and will have a break now and come back to run in bumpers or go Novice Hurdling in the Autumn. We are syndicating him out at the moment (1/8th shares) and only have a few left so let me know if you are interested.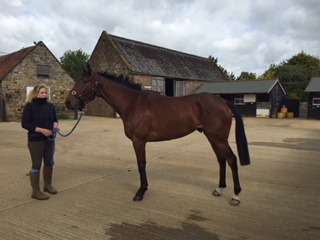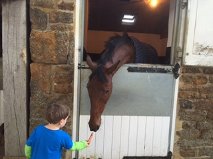 BARENICE POSING GEORGE WELCOMES BARENICE WITH A CARROT
Our second new arrival was Big Jim and Maybell's sister who was born two days ago. She is over at Jane Ways Farm, who looks after our small breeding program. We are just about to take the children over to see her, apparently she is a lovely strong filly and looks very much like Maybell (Bunny has named her Elsa after the Frozen film, not sure if that name will stick or not!)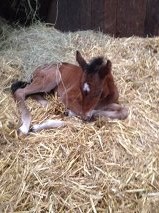 'ELSA' HAVING A REST, IT IS QUITE TIRING BEING BORN!

Apart from going to the sales and new arrivals the rest of the string have been ticking away nicely. Capsize went down to Salisbury on Saturday night and ran well only to get tired a furlong from home, it was an improved performance on his last run which is good news. Yesterday Ogaritmo went to Uttoxeter, it was quite a hot race for her but she is always very consistent and ran a great race to finish 3rd. Another placed horse for the Racing Club and great there were quite a few members there to cheer her on.
This week Come On Harriet and Vauban Du Seuil have entries at Worcester and Cartmel and Royaume Bleu will have an entry at Fakenham on Sunday. Bunny and George are also at home as it is half term holidays so I am sure we will fit in some day trips somewhere.