Latest News
We are already into the second week of the new season, time goes so quickly! Looking ...
10-05-2022
What an amazing week it has been, with two winners at different ends of the scale. On...
09-04-2022
Sunday Afternoon At Market Rasen
13-April-2015
13-April-2015 15:25
in General
by Admin
Yesterday saw us up at Market Rasen. We have been fairly quite since Ogaritmo won in Monday so it was good to get back out racing again. Periquest was having his first run for a while as he'd had a slight 'tweak' to his wind a few weeks ago. Although he is quite a big horse he does not want really soft going and Market Rasen had good ground yesterday which was ideal. He ran a really solid race to finish 2nd, the lead horse fell in front of him at the last which left him in front, somewhere he had not been before. I think he was a little bewildered for a while as to where his friend had gone which gave a horse from behind just enough time to overtake him and win by 3/4 of a length. Still a much improved run and shows us we have much to look forward to in the future.
Our other runner was Maybell, Big Jim's sister, who was having her first ever run. She is not quite as big as Jimmy and slightly more forward for her age. It was a mares only bumper and there was some real hotpots in the race but although she ran slightly green she finished 5th and with that run under her belt she should come on again.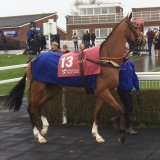 Last week we managed to take the children to Devon for a couple of days, we were very lucky with the weather and had great fun on the beach. Tomorrow it's back to normal and the mad morning rush to get to school on time, never ind nly 5 weeks until they break up again!