Latest News
We are already into the second week of the new season, time goes so quickly! Looking ...
10-05-2022
What an amazing week it has been, with two winners at different ends of the scale. On...
09-04-2022
Golden Horse Open Morning & Panko Hacks Up
11-June-2018
11-June-2018 13:01
in General
by Admin
It has been a busy weekend and successful weekend.
On Saturday we had an Open Morning for The Golden Horse Racing Club. All of their horses were paraded in glorious sunshine including the broodmares, youngsters and foal. All of the horse behaved very well and even 3 month old squeak who was a complete professional. After seeing Dandilion on the gallops and the parade of horses a lovely hog roast was available for everybody, which went down very well. Everybody then headed off to Stratford races to see Crystal Sunstone run in their colours.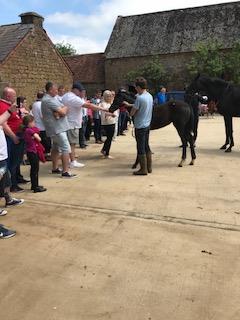 Yesterday Panko made the trip down to Goodwood. We were very hopeful of a good run and he put up a superb performance to win easing down. Great for his Owners who had a great day. Now we have to try and find a race for him before he rockets up in the handicap. Another winner on the board which is great for the yard.